About Director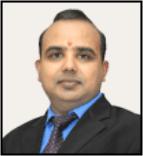 Prof. Sanjay Biyani, Director (Acad.) and the senior most faculty member, corporate trainer, youth motivator and soft skill trainer, has completed his Doctorate from the University of Rajasthan, Jaipur on "Analysis of Financial Statement and Accounting Standards". Prof. Biyani is a fellow member of the Institute of Chartered Accountants of India and has written several popular books like 'You can succeed', 'How to strengthen mind through positivity' and articles in leading journals etc. Prof. Biyani is an honorary member and Secretary of Biyani Shikshan Samiti and Jaipur Rural Health & Development Trust.
FROM THE DESK OF THE DIRECTOR (ACAD.)
The institution believes in empowering youth by making them realize their inner power and  developing their personalities in such a fashion that they can face the challenges of the world with utmost ease, inner peace and positive attitude. Our main focus is to enhance personality, confidence and entrepreneurship. We aim at imparting quality education with practical knowledge to enhance the employability of the students.
I suggest, all young minds to be a part of our 10 days orientation programme "Oorja-2017". I assure that this programme will help in realizing unlimited inner power and positivity.
I welcome all the young mind to Biyani Group of Colleges – a place where you can trust.